Legislative Affairs Agency
Legislative Affairs Agency (LAA)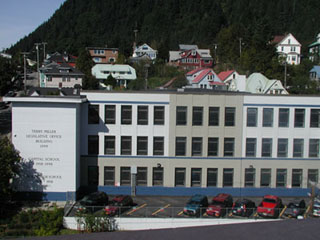 Mailing Address:
State Capitol, Rm. 3
Juneau, AK 99801
Physical Address:
129 6th St.
Juneau, AK 99801-1182
The Legislative Affairs Agency is the vehicle for execution of Legislative Council policy and the carrying out of other statutory and rule assignments made by the Legislature. The Agency is headed by an Executive Director who serves at the pleasure of the council and is responsible for the hiring and direction of the activities of the Agency staff according to the law and directives consistent with law and rule. The Executive Director serves as the coordinating authority for the two functional divisions of the agency.
Office of the Executive Director
Jessica Geary, Executive Director
Phone 465-3800 Fax 465-3234

Division of Administrative Services
The Division of Administrative Services provides management assistance to the Executive Director, administrative support to the Legislature and all divisions, and has the responsibility for accounting, payroll and personnel, maintenance of the Capitol, supply, procurement, data processing, printing, document distribution and the statewide legislative information and teleconference network. There are 23 Legislative Information Offices within the state.
Division of Legal and Research Services
Legal Services
Legal Services provides bill drafting and legal research/advice for legislators, as well as contract review, session law production, and statute revision.
The Legislative Reference Library is open to the public as well as legislative personnel, and contains most legislative committee records.
Legislative Research provides research and information services to Alaska legislators. The agency is non-partisan and accessible to all members of both houses. It is a source of independent and objective information, research, and analysis.
Legal Services
Megan Wallace, Director
465-3867

Legislative Reference Library
465-3808

Research Services
465-3991