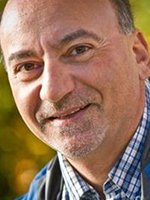 Session Contact
State Capitol Room 511
Juneau AK, 99801
Phone: 907-465-2647
Fax:

Interim Contact
1500 W. Benson Blvd.
Anchorage AK, 99503
Phone: 907-269-0106
Fax: 907-269-0109


Date and Place of Birth:
February 6, 1963
New York, New York
Occupation:
Attorney, writer
Spouse:
Kelly
Residency in Alaska:
Fairbanks, August 1988-August 1989;
Anchorage, August 1989 to present
Education:
Freeport High School, 1977-1981, Diploma;
Boston University, 1981-1985, B.A.;
Harvard Law School, 1985-1988, J.D
Political and Government Positions:
Law clerk for Justice Jay Rabinowitz, Alaska Supreme Court;
Assistant Attorney General.
Special Interests:
Fishing, rafting, fly-tying.