Representative
Sharon Jackson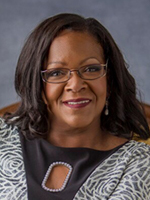 Session Contact
State Capitol Room 428
Juneau AK, 99801
Phone: 907-465-3783
Fax:

Interim Contact
1500 W. Benson Blvd Suite 216
Anchorage AK, 99503
Phone: 907-334-2630
Fax: 907-269-0229


Representative Sharon Jackson was appointed to the 13th District seat by Governor Michael J. Dunleavy, and was sworn in on January 16, 2019.

Sharon Jackson was born and raised in Philadelphia PA and proudly served in the United States Army which brought her to Alaska in 1983. Upon completing her active duty tour with the Army, she enrolled in Charter College where she became a Certified Electronic Technician. For the next 13 years she worked in this field until the tug on her heart to again serve her fellow man encouraged her to join the National Federation of Independent Business (NFIB) a State and Federal small business lobby. She then dedicated the next 13 years working for the NFIB and National Write Your Congressman organization where she managed office operations and provided education on legislation that would affect the longevity of family businesses.

Sharon's passion is to empower the people of Alaska to use their influence in government to preserve their freedoms, just as the Founding Fathers intended. In 2015, Sharon became a Constituent Liaison for U.S. Senator Dan Sullivan and has found her role in assisting constituents to successfully solve their problems to be very rewarding. She has served as Vice President of the Midnight Sun Republican Women Club, Assistant Secretary to the Alaska Republican Party, and has served two terms as the Bonus Vote for District 13 representative. In 2016 she was a delegate for (now) President Donald Trump attending the Republican National Convention. Sharon recently founded the Republican Women of Anchorage club and serves as its President. She is also serving as a Commissioner for the Anchorage Public Safety Advisory Committee, and as Assistant Director- Opinion Leader Outreach- for The Church of Jesus Christ of Latter-day Saints' Alaska Public Affairs Committee. Sharon, a Reagan-era Republican since her early 20's, and her husband Jim Porch is a Vietnam Veteran, reside in Eagle River.