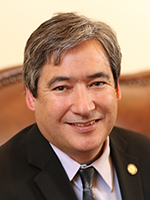 Session Contact
State Capitol Room 403
Juneau AK, 99801
Phone: 907-465-4766
Fax:

Interim Contact
State Capitol Room 403
Juneau AK, 99801
Phone: 907-465-4766
Fax: 907-465-4748


Sam was born and raised in Alaska, and has over twenty-five years of experience in engineering, planning and government relations. He has worked in the private sector, and for local, state and federal government agencies. He has worked in many parts of Alaska on various engineering, transportation, and community planning projects.
Recently, Sam managed the school construction and major maintenance grant and debt programs for the State of Alaska Department of Education that provides funding and oversight of school construction and major maintenance projects for Alaska's public schools. Sam also spent time working for the State Department of Transportation and Public Facilities where he coordinated the department's legislative activities and resolved conflicts on rural projects around the state.
He is an active member of the American Society of Civil Engineers (ASCE), and has served in various capacities with the Alaska Professional Design Council (ASPE), Alaska Society of Professional Engineers (ASPE), Professional Engineers in Private Practice (PEPP) and the Institute of Transportation Engineers. Sam is a corresponding member of the national ASCE Infrastructure Report Card Committee.
Sam was born in Anchorage, attended elementary school in Fairbanks, and secondary school in Anchorage. He earned a bachelor of science in Civil Engineering from the University of Alaska Anchorage. Sam serves on the Glacier Swim Club Board and the ASCE Juneau Board. Sam is raising his daughter Gabryel, and enjoys playing guitar, reading, biking, skiing and swimming.