Representative
Ashley Carrick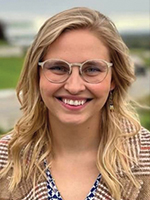 Session Contact
State Capitol Room 428
Juneau AK, 99801
Phone: 907-465-4976
Fax:

Interim Contact
1292 Sadler Way Ste 308
Fairbanks AK, 99701
Phone: 907-452-6084
Fax:


Representative Ashley Carrick is a fourth generation, lifelong Alaskan, with a long family history in the Interior. In 2010, she moved from her hometown of Anchorage to attend the University of Alaska Fairbanks, where she obtained a Bachelor's degree in Psychology and a minor in Secondary Education.

Making West Fairbanks her home was an easy choice for Ashley: her grandmother grew up along the banks of the Chena River, and her great-grandfather made a career in aviation working with MarkAir and Wein Airlines. Later, Ashley's grandmother raised her own family in Healy, Alaska, where she worked as the Tri-Valley school librarian and Ashley's grandfather made his career as a 39-year Teamster at Usibelli Coal Mine. After visiting the Interior throughout her childhood, Ashley felt that Fairbanks was truly the "Golden Heart City," and that her decision to head north for college was a homecoming a generation in the making.

Ashley has worked as a substitute teacher in the Fairbanks North Star Borough School District, a counselor with the Rural Alaska Honors Institute, as a program coordinator at the American Lung Association in Alaska, as the executive director of the Tanana Valley Watershed Association, and as adjunct faculty with the Community and Technical College. Her experiences in education and community organizing have given her the opportunity to learn from a diverse range of leaders. In 2020, Ashley obtained a Master's Degree in Public Health from UAA's Division of Population Health Sciences, and considers health, education, environment, and workforce development to be some of the key issues she would like to focus on as a Representative.

Prior to running to represent House District 35, Ashley worked for six years as a legislative aide. For five years, she served State Representative Adam Wool as his Chief of Staff. In this role, Ashley became informed on a variety of state issues, opportunities, and challenges.

Outside of work, Ashley loves spending time with family and friends, including her two beagles- Beelz and Zephyr. She lives on a 5-acre plot of undeveloped taiga forest, and loves her home nestled between Ester and Murphy Dome. She also loves to go climbing, camping, and swimming, and she is an active participant in the vibrant Fairbanks arts community.

Representative Carrick's policy goals are to ensure long-term fiscal sustainability, adequately fund education and higher education including the University of Alaska, and to ensure the health, safety, and well-being of all Alaskans. She often says that she would rather be in Alaska on its worst day than anywhere else on its best day. She is dedicated to working towards a future where all Alaskans can thrive.