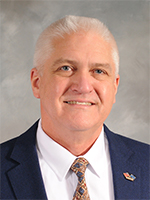 Session Contact
State Capitol Room 115
Juneau AK, 99801
Phone: 907-465-4843
Fax:

Interim Contact
1500 W Benson Blvd
Anchorage AK, 99503
Phone: 907-269-0181
Fax:


Senator Roger Holland, his wife, Leslie, and their two daughters, Chloe and Sarah, moved to Anchorage, Alaska in 2009 from Louisiana. Having earned a bachelor's degree in Biology from the University of New Orleans in 1985, Roger worked as an environmental biologist in both the private and public sectors during his early years. In Alaska, he accepted the position of State Metrologist in January 2010 and worked in the State of Alaska Metrology Lab for ten years until January 2020. In 2020, he was elected to the Alaska State Senate. Senator Holland lives with his wife, Leslie in south Anchorage.

Roger's military career began in January 1991 when he enlisted as a Boatswains Mate in the United States Coast Guard Reserves. His assignments included Coast Guard Station New Orleans (1991-1995), Coast Guard Station Venice (1995-1998), and Port Security Unit 308 (1998-2009) near Gulfport, Mississippi. As a Tactical Coxswain with PSU 308, Roger deployed to Bahrain in 2002, Kuwait in 2003-2004, and went on to serve as the Chief of the Boat Division in Guantanamo Bay, Cuba in 2007. Roger has also been recalled to active duty in response to Coast Guard operations that have included Hurricane Katrina and Operation Deepwater Horizon. With 30 years completed, Senator Holland retired from his final assignment in early 2021 having served as the Reserve Command Senior Chief at Sector Anchorage, Alaska, from 2010 through 2021. His awards include the Joint Service Achievement Medal, both the Global War on Terror Service and Expeditionary Medals, the Coast Guard Achievement Medal, the Special Operations Service Ribbon, and various other personal and unit awards.

Senator Holland is also a member of the United States Coast Guard Auxiliary, the Chief Petty Officer Association, the Reserve Officers Association, the Coast Guard Combat Veterans' Association, and the Knights of Columbus. His hobbies include boating and fishing in Prince William Sound and snow-machining in southcentral Alaska.