Representative
Grier Hopkins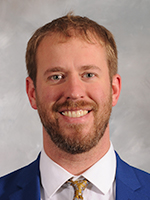 Session Contact
State Capitol Room 434
Juneau AK, 99801
Phone: 907-465-4457
Fax:

Interim Contact
1292 Sadler Way Ste 308
Fairbanks AK, 99701
Phone: 907-456-8172
Fax:


Representative Grier Hopkins is a lifelong Alaskan serving his second term in the legislature representing the communities north of Fairbanks, on the west side from Ester to Goldstream to Fox and Birch Hill. He is Chair of the House Transportation Committee, Chair of the House Special Committee on Arctic Policy, Economic Development and Tourism, and a member of the House Education and House Resources committees. His interests are in education, sustainable fiscal planning, responsible development, and economic growth. When not representing the people of House District 4, Grier represents and advocates for Alaska's educators and education professionals in every corner of our state.
Grier and his wife Kristina are starting their family, with a baby due in May 2021. With both sets of grandparents in the Fairbanks area, and more family currently in Anchorage, they look forward to plenty of memories and love as they raise a new Alaskan and make the state a place she'll want to call home.