Representative
Dave Talerico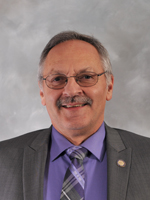 Session Contact
State Capitol Room 104
Juneau AK, 99801
Phone: 907-465-4527
Fax:

Interim Contact
1292 Sadler Way Suite 328
Fairbanks AK, 99701
Phone: 907-451-2818
Fax:


Date/Place of Birth:
February 23, 1956.
Residency in Alaska:
David was born in Ellensburg, Washington and moved to Suntrana, a mining community next to Healy when he was 13 years old with his family. He is one of 4 sons of Frank and Doris Talerico.
Occupation:
Miner, HR and Safety
Family:
Married at 19 to his wife Peggy They have been married 40 years. They have 2 grown children Danielle and David and 6 grandchildren.
Other Political and Government Positions:
Denali Borough Mayor - November 2002 to December 2012
Alaska Legislative Staff - January 2013 to May 2013
Upper Railbelt School Board
Denali Borough Land Use Planning Committee
Tri-Valley Volunteer Fire Dept. Board
Denali Borough Assembly
Denali Borough Mayor
Alaska Safety Advisory Council
Business and Professional Positions:
Usibelli Coal Mine - April 1974 to January 1997
Denali River View Inn - Owner/Operator October 1996 to October 2005
Usibelli - June 2013 to December 2014